Inflatable structures are supported by blowing air inside the structure, which is reflected in their name. It could seem that this would be uncomfortable for visitors to be inside of the structure; however air-pressure changes inside the structure are very minimal and not more than natural barometrical fluctuations.
Types of air inflatable structures
There are a few main types of air domes, i.e. high and low profile (referring to the height of the structure) structures:
High-profile constructions are mostly used when the structure is to be run temporarily or periodically on a "zero" ground base.
Low-profile constructions are used for large-scale overall dimension structures, such as stadiums, large sports complexes, etc. Also they are most often built on buildings themselves, but not on a "zero" base level. Cross cables hold the roof down.
Here are few samples of low and high profile structure types: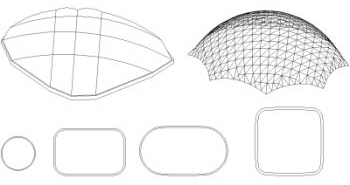 Architecture and Structural Engineering of Air Supported Structures
Dimension
Dimensions of air-supported structures can vary, depending on the purpose of the structure as well as the customer's requirements. For example, when covering tennis courts, the dimensions of the structure will depend on the number of the courts to be covered. e.g.:
one tennis court -36 x 18 m;
two tennis courts - 36 x 36 m;
three courts - 36 x 54 m;
four courts - 36 x72 m, and so on.
Covering material
The structure's awning is calculated by estimating snow and wind loads according to local building regulations. The material is welded and installed as a one-piece cover, securing an absolute impermeability of the structure. The cover is manufactured from flame retardant (DIN4102B1/M2 standard), light translucent material, both sides of which are covered by an acrylic layer. It is possible to produce the structure from blackout (light-proof) material of your chosen color. Special fastening units, produced from galvanized steel, arrange connecting structure to the ground.
Inner layer
In order to insulate the structure, minimize condensation, and improve acoustic properties, an air-gap can be made by fitting an additional layer of PVC material from the inside of an air supported structure.

Doors
For the main entrances to the structure revolving doors are used; direct-emergency exits can also be installed.
Heating and air supporting system
Automatic heating and air supporting system is calculated for each structure, which depend on the customer requests can use gas, oil, existing central heating or electricity.
Heating expenses for air supported structure »
Illumination
Upon customer's request, illuminators of the structure can be direct (hanging on the ceiling) or indirect.

Additional information
Microclimate maintenance control system is designed and installed as an additional package.
Sketches of the structure - drawings are presented and coordinated with a customer before signing an agreement or, upon the customer's request, earlier.
All necessary technical documentation and warranty obligations are enclosed to the products.