JSC Vingida started operations in Lithuanian market in 1993. The company was established in Klaipeda. We work in rental tents business and produce wide range of pre-engineered metal buildings and clearspan structures.


Currently Vingida Ltd is a construction company, building objects of special importance, certified by the Ministry of Environment of the Republic of Lithuania. Certified specialists work here, constantly taking refresher courses, attending various seminars, events, and meetings in Europe, North America, as well as other countries throughout the world.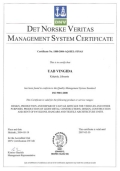 All operations of the enterprise have certificates and are certified by Det Norske Veritas following EN ISO 9001:2000 quality management system requirements.

Recently the company has achieved great success because it can offer its customers outstanding, high quality products and services for a fair price. Working within a strong competitive environment, the company is ready for changes, it is sensitive to customer demands, and constantly improves its production. Therefore, Vingida Ltd is currently carrying out and will continue to fulfill its obligations to customers, partners, and employees of the organization with quality.

We are different because we do not make production cheaper at the expense of quality.

Mission and purpose

Our mission is to be the best and the most successful company in the field of design and construction of mobile structures, implementing quality projects on a world scale. For this purpose, the enterprise established all necessary design, production, and management infrastructure. It also maintains partnership relations with other design, production, construction enterprises and organizations in the same field.